---
---

HOW TO ENJOY THE PERFECT WINTER FUN
Forget your everyday troubles and let yourself get carried away by the waves of adventures and fun in the Tropics of the Liptov region. Imagine thermal, sea and clear water pools with underwater massage and underwater jets that will relax your body. How about frolicking on water slides or trying surfing on artificial waves? Enjoy all this fun with the favourite drink in your hand at a pool bar under palm trees.
Take your family or friends and spend an unforgettable winter holiday in Tatralandia.
---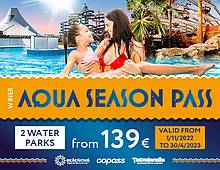 Winter Aqua Season Pass
valid until 30.4.2023
Pack your swimwear and enjoy two water parks at a great price! What's more, the season pass use guarantee, attractive discounts and benefits are included as well.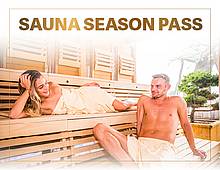 Winter Sauna Seasonpass
valid till 24.6.2022
Let all the worries in the steam disappear and recharge positive energy and treat yourself to a world of perfect rest and relaxation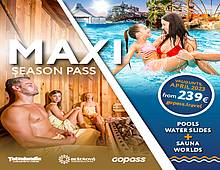 NEW IN SUMMER – MAXI SEASON PASS
valid until 30.4.2023
Do you like swimming as well as sauna relaxation? We have a great solution for you – the brand new MAXI SEASON PASS, which combines the AQUA SEASON PASS and the SAUNA SEASON PASS. Now available at an unbeatable price.
---
---
---
---