Winter Holidays in the Tropics
Do you also sometimes feel the need to take a break from winter and warm yourself up properly?
---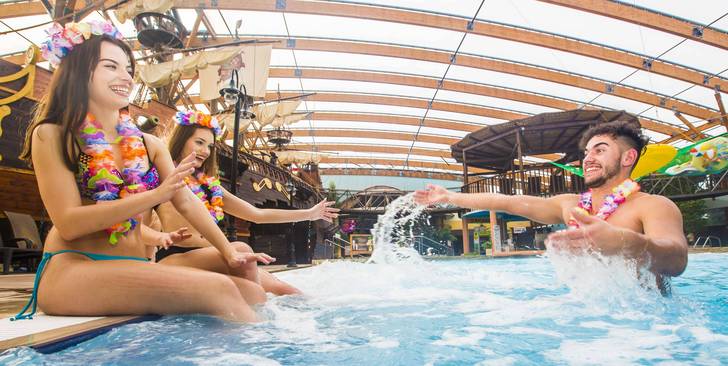 We all have the desire to feel warm. I am also one of those who desperately need warmth and sun, and am dreaming of a permanent tropical climate or at least a pleasant summer day. Social networks are full of celebrities who are enjoying exotic countries and sharing photos of their beautifully tanned bodies. Tropical holidays in winter months are becoming more and more trendy.
However, the prices of such holidays, for example to the popular island of Bali are still very high – from €1,300 for 7 days. And if you add a minimum of 16 hours spent in the plane, the vision of a peaceful holiday is slowly vanishing. Exotic destinations are still like an illusion for me so I am searching for other forms where and how to warm myself up...
And I have found a solution:
The only tropical complex in Slovakia is located inside the water park of Tatralandia. What is actually the Tropical Paradise? First of all, it´s constant 32°C all year round, a roof which lets sunrays through, ever-present flora like in Haiti and of course saline water which is part of the complex too. Music like at a disco club on the beach cannot be missing either and nor does diving in a pool with colourful fish, fun on surf boards, pleasant relaxation on massage beds with jets or brilliant Thai massages. When I close my eyes, I can see myself lying at a luxurious beach bar with local people around me, offering various specialities. So I let them spoil me and enjoy my private paradise.
In Bali, meeting others would probably not be possible without a tropical drink in my hand. The Barbados bar in the middle of a pool complex is meant exactly for that – meeting new people, chatting about happy things as well as worries and having a few glasses together!
What else do you need to have on holiday in a tropical paradise? For me, the guarantee where to find such place is enough. Satisfied that I have saved a few hundreds of Euros, I am getting in my car and heading for Tatralandia.
---
Would you like to know more about the events and specials of Tatralandia water park? Read our blog with various topics.