Tropical Paradise Tatralandia
Discover a tropical paradise in Slovakia, with 30°C temperatures all year round, palm trees and great fun.
---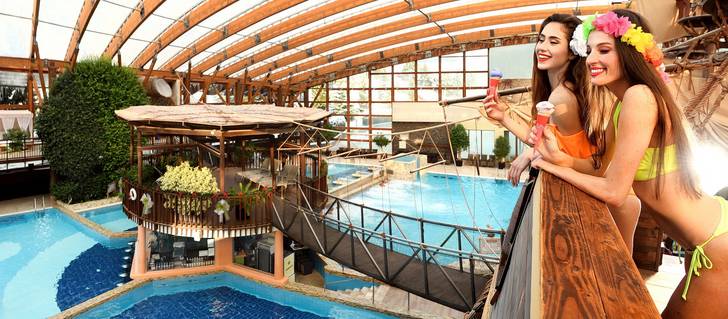 ---
---
---
A pirate sailing boat that was wrecked on rocks, corals and shells around it under water, high palm trees on shore. Relaxation on comfortable pool beds in their shadow, amusement in water or discovering the sea life among colourful fish...
Are you dreaming of changing your everyday busy routine for a tropical atmosphere, fun and peaceful moments on a hot beach? Everything is possible with us. Visit a tropical paradise in the heart of the Liptov region under a transparent roof in Tatralandia.
Enter our Tropical Paradise which offers 30°C all year round and where you can get a suntan thanks to a special roof cover in all seasons of the year. Relax in 4 salt or clear water pools with temperatures of 34 – 36°C near a pirate ship and let underwater jets and fountains massage you all over the body. Salt dissolved in water contains 32 chemical compounds which have beneficial healing and relaxation effects. This means that the so called thalasso therapy (sea water therapy) is available in the region of Liptov anytime all around the year. Visit our Tropical Paradise and recharge your batteries for your next days.
Discover the secrets of a ship wrecked on a cliff. Plunge into the world of shells to see if there are pearls hidden inside or look for a pirate treasure. Corals and their inhabitants – sea anemone and colourful fish live in a unique aquarium under water so put diving goggles on and find their kingdom in the Snorkelling pool.
The Barbados bar is a unique oasis embraced by 4 pools. Refreshing mixed drinks are served literally in water there. Recharge your batteries for further Caribbean adventures or have a nap on a comfortable pool bed in the relaxation zone of the Tropical Paradise. The Paradise restaurant offers a rich choice of traditional as well as exotic specialities, the Marina bar is popular for sweet pancakes and ice cream. Yes, all this can be found in the Tropical Paradise. After all the area is 400 m2. And the shell that our Tropical Paradise resembles is only a part of what Tatralandia offers all year aroud.
---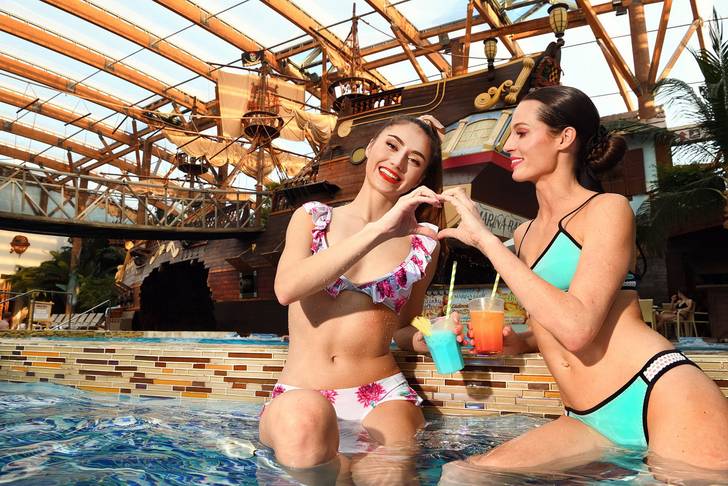 ---
Enjoy fast adventures on our water slides. Pluck up your courage and join a crazy adrenalin wave!