Let all the worries in the steam disappear and recharge positive energy and treat yourself to a world of perfect rest and relaxation
---
---


Children
6 – 11.99y.
Juniors, students,
seniors
Adults
Forsale
(until 21.12.2022)
109 €
129 €
149 €
PREVIOUS SAUNA SEASON PASS SURCHARGE
SURCHARGE I.
(untill 21.12.2022)
109 €


Children
6 – 11.99y.
Juniors, students,
seniors
Adults
Forsale
(until 21.12.2022)
109 €
129 €
149 €
Sale
(from 22.12.2022)
159 €
179 €
199 €
PREVIOUS SAUNA SEASON PASS SURCHARGE
SURCHARGE I.
(untill 21.12.2022)
109 €
SURCHARGE I.
(from 22.12.2022)
149 €
---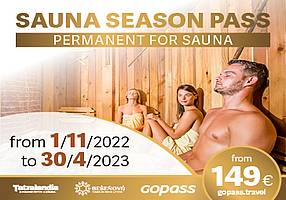 Do you know the Winter Aqua Season Pass?
Only with SAUNA SEASON PASS you can enjoy until April 30, 2023 in Harmónia Wellness&Spa and Celtic Sauna World in the water parks Bešeňová and Tatralandia at an unbeatable price and with a guarantee of use.
more info
---
---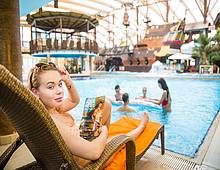 Reloadable chip
We value our loyal season pass holders. Skip the queues and enter water parks with your Aqua Season Pass and a reloadable chip faster!