Have your heard this? That's great! Let's buy it!
Wow, this would be awesome! This is perfect! I want it!
These are the reactions to the new Aqua Season Pass offer. Would you like to know more?
---
---
---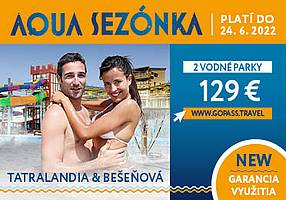 Do you know the Winter Aqua Season Pass?
Only it guarantees till 24.6.2022 in the water parks of Bešeňová and Tatralandia at an unbeatable price!
more info
---
---
Prices – Winter Aqua Season Pass
Date of sale
Children 0 – 5.99* y
Children
6 - 12*y
Juniors,
students,
senior
Adults
Surcharge for Summer Aqua Season Pass holders

SALE
- online from 1.2.2022

Grátis

109 €

119 €

129 €

109 €

SALE
- offline from1.2.2022

Grátis

129 €

145 €

159 €

-

Reduced prices for Winter Aqua Season Pass holders
XS Surfing - 20 min. of surfing
-
9 €
9 €
9 €
-
Celtic sauna world surcharge – max. 3 hours
-
10 €
10 €
10 €
-
* not including
---
General terms and conditions – Winter Aqua Season Pass
Online file to download
---