Contactless access to Tatralandia
NEW! Top up a water park chip with your ticket purchased online easily and quickly at contactless AOM ticket machines and enter the water park comfortably.
---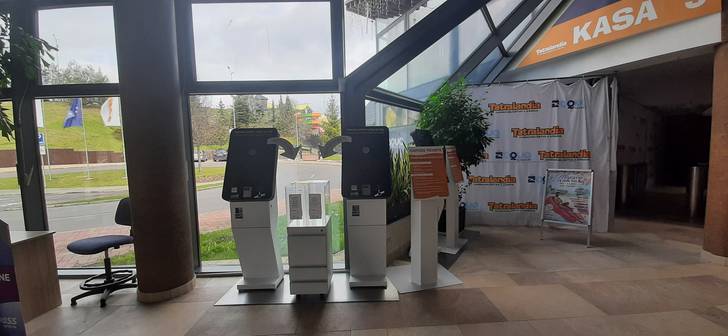 ---
---
1. Buy a Tatralandia ticket at www.gopass.travel. It can be purchased online also on the day of use.
3. Once you arrive in Tatralandia, go to a self-service ticket machine in the entrance hall and enter the PIN code. It is a one-time PIN code, has to be entered correctly and is valid only for the respective Aqua ticket date of use.
4. Take a chip from the container next to the reader and hold it close to the reader after entering the code (next to the keyboard). Hold it there for several seconds until you are informed that the chip has been topped up successfully. Then pass the nearest turnstile and enjoy your day in the water park.
If you enter a wrong PIN 3 times in a row, please wait for a minute or ask the staff for help.
Ak 3x neúspešne zadáte pin je potrebné počkať minútu poprípade poprosiť o pomoc obsluhu.
---
Every ticket can be used only once.
Every chip can be used to pay max. 60€.
There are no chip lockers available for children younger than 12 years.
If a chip gets lost, the number of the GP card that the chip was paired with is required.
If a chip gets lost, a 65€ fine is required.
Chips for children younger than 6 years are available at ticket offices.
By buying a ticket, you accept the Tatralandia water park rules.