Zažite Halloween s havajskou atmosférou alebo Havaj party s halloween atmosférou?! V Tatralandii si vyberie každý.
---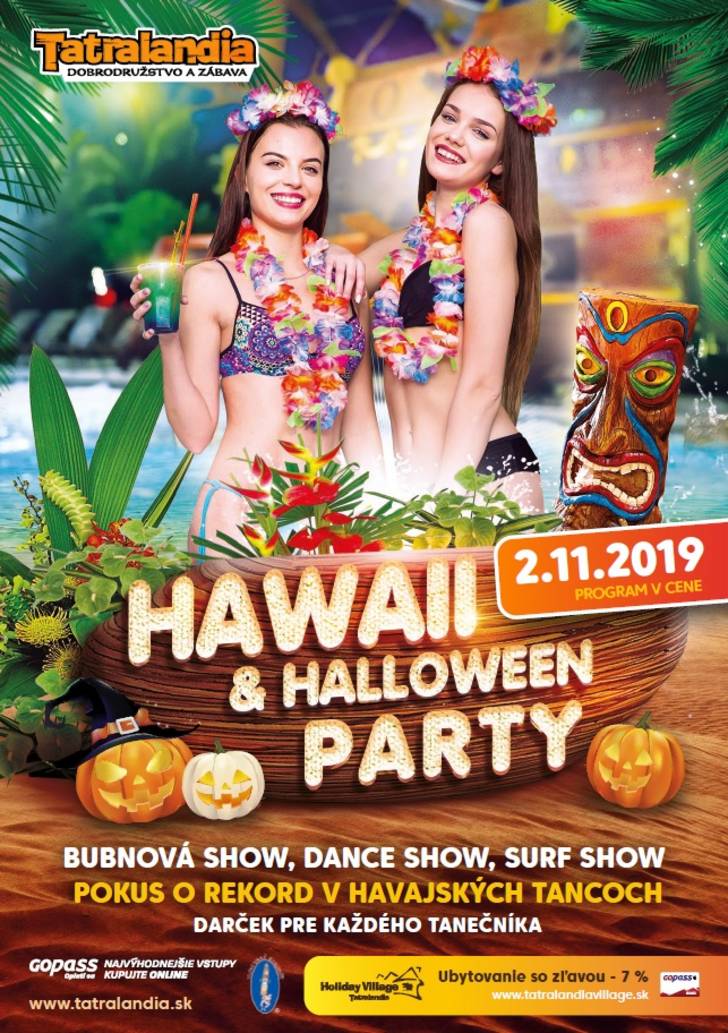 Netreba cestovať tisíce kilometrov, veď v Tatralandii bude 2. 11. 2019 Havaj & Halloween Party.

Prežite čas Dušičiek na Havaji! Tropické prostredie, havajské tance a surf show vás doslova vtiahne na havajskú pláž Waikiki. K tomu hudba a zábava, tobogany a bazény, exotické drinky a veselé celodenné animácie - to sa nedá ignorovať. To jednoducho treba zažiť a vychutnať si to naplno. Pokúsime sa spolu s vami aj o slovenský rekord v počte účastníkov tancujúcich havajské tance. Každý tanečník dostane za účasť malú odmenu :)
Navštíviť Tatralandiu sa oplatí už dopoludnia. Animátori budú usilovne učiť každého tancuchtivého návštevníka základne kroky a pohyby z toľko obdivovaných ladných havajských tancov. Počas dňa to netreba zabudnúť, pretože večer sa bude počítať každá ruka, každá noha. Popri tanci zábava vo vode a na toboganoch, potom chvíľa oddychu vo Wellness centre na havajských masážach a podvečer to celé začne. Pokúsime sa spolu o nový slovenský rekord! Veď dynamická hudba plná polynézskych tónov, ladné tanečnice a energiou nabité bubny nenechajú nikoho stáť. Potom pokračujeme v diskotéke priamo v bazéne až do záverečnej.
Tešíme sa na vás!
---