---
Animals in the spotlight are what makes this park such an interesting attraction. In a spacious circular building at the beginning, visitors are welcomed by a cheerful play of two bears, Mišo and Máša. Thanks to our trained caregivers and appropriate security measures, it is possible to find yourself just a couple of metres away from them. These bruins are socialised and mostly interested in each other and tons of play, anyway. Nevertheless, being so close to these wild creatures slightly raises adrenaline levels and learning lots of secrets from their lives is a fascinating affair.

Other beasts are just a stone's throw away from the bears. Looking at the left side of the grounds, a curious visitor naturally heads towards the vast enclosures belonging to lions and tigers. While looking at eight mighty lions from a safe distance, it is up to everyone's courage to step into a special cage and stay face to face with them and their environment.

The contiguity with the beasts which visitors were used to in the contact ZOO in the past has changed. However, it remains the same with smaller and much less dangerous animals. Especially children will definitely enjoy petting a cat, a bunny or a kangaroo, having a picture taken with a pelican or being surrounded by frisky playful squirrels. In addition to monkeys, alpacas and parrots, that also can be found here, we are gradually adding more members to our diverse animal family. Our latest addition is an aviary where parrots and butterflies dwell in colourful exotic beauty. We keep the interior temperature of the aviary under control, so this eye bounty is available to visitors all year round, even in winter.
---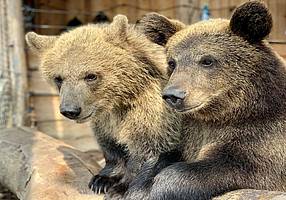 BEARS
The brown bear is the most common bear species. Its large variety in size directly depends on food and a particular habitat.
read more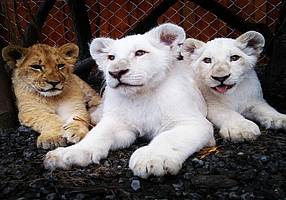 LYONS
The lion differs from other felines by its short sleek coat and a tail that has a long fur tuft at the end.
more info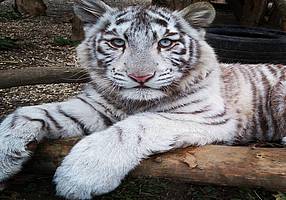 TIGRES
The tiger's forest habitat ranges from tropical rainforests to the snow-covered Siberian taiga.
more info
---